---
COMETH training course : objectives
  15-16 Feb.2021, ONLINE
This 2-day online course aims to train clinicians to the use of cutting edge computational methods to quantify tumor heterogeneity through a dedicated user-friendly web interface.  
Registration deadline extension: 10 January 2021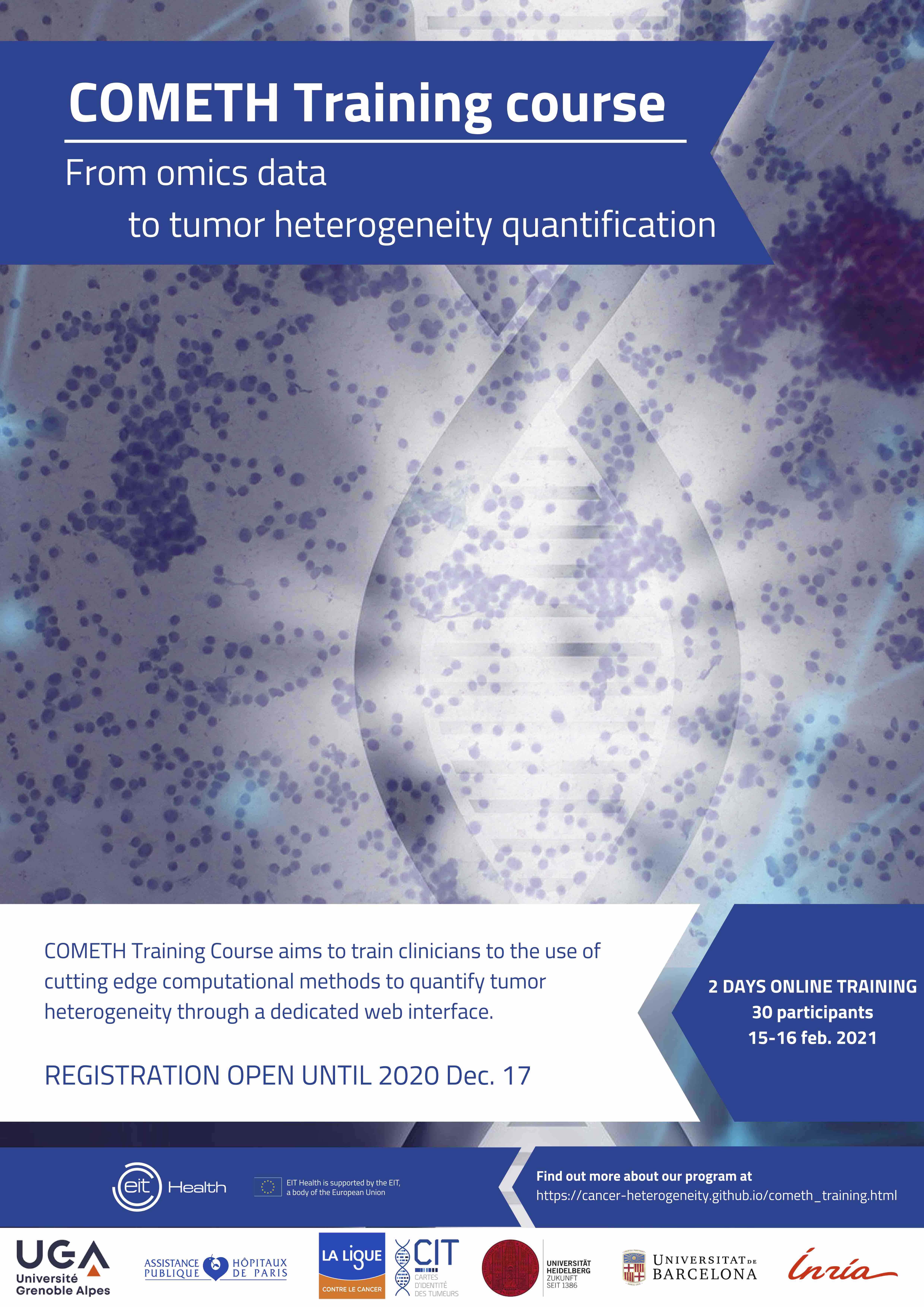 ---
Digital platforms
Material to download
Practical work will differ according to your affectation (medical or bioinformatic group). Please check your affectation and download the corresponding material here.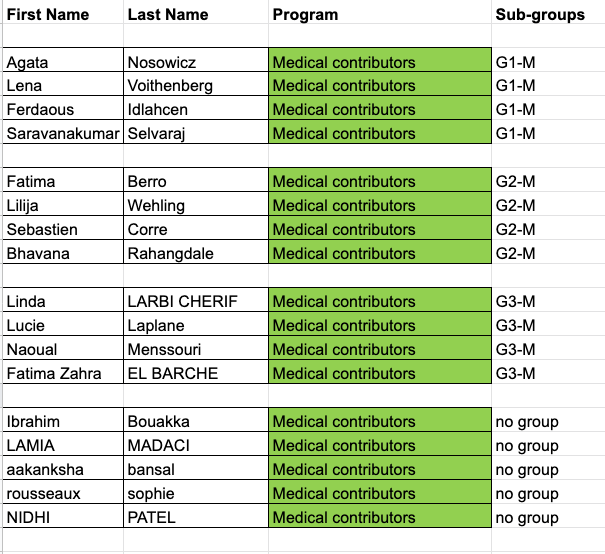 For medical group
Datasets
We have prepared toy expression datasets from the TCGA public cancer database (including clinical annotation tables).
!!Format!! .cvs with separator = ";" and decimal = "." Samples in column, genes in row (use Gene Symbol as gene ID). If you want to use your own dataset during the course, please use the same csv format (separator = ";" and decimal = ".").
Omic type : transcriptome
Normalized counts (linear scale)
FPKM (linear scale)
Practical work sheet
Presentation supports
DAY1
Course format and program
2-day online sessions with general lectures and practical training.
General lectures will cover:
  • Introduction to cancer heterogeneity
  • Introduction to computational methods
  • Interpretation and visualization of the results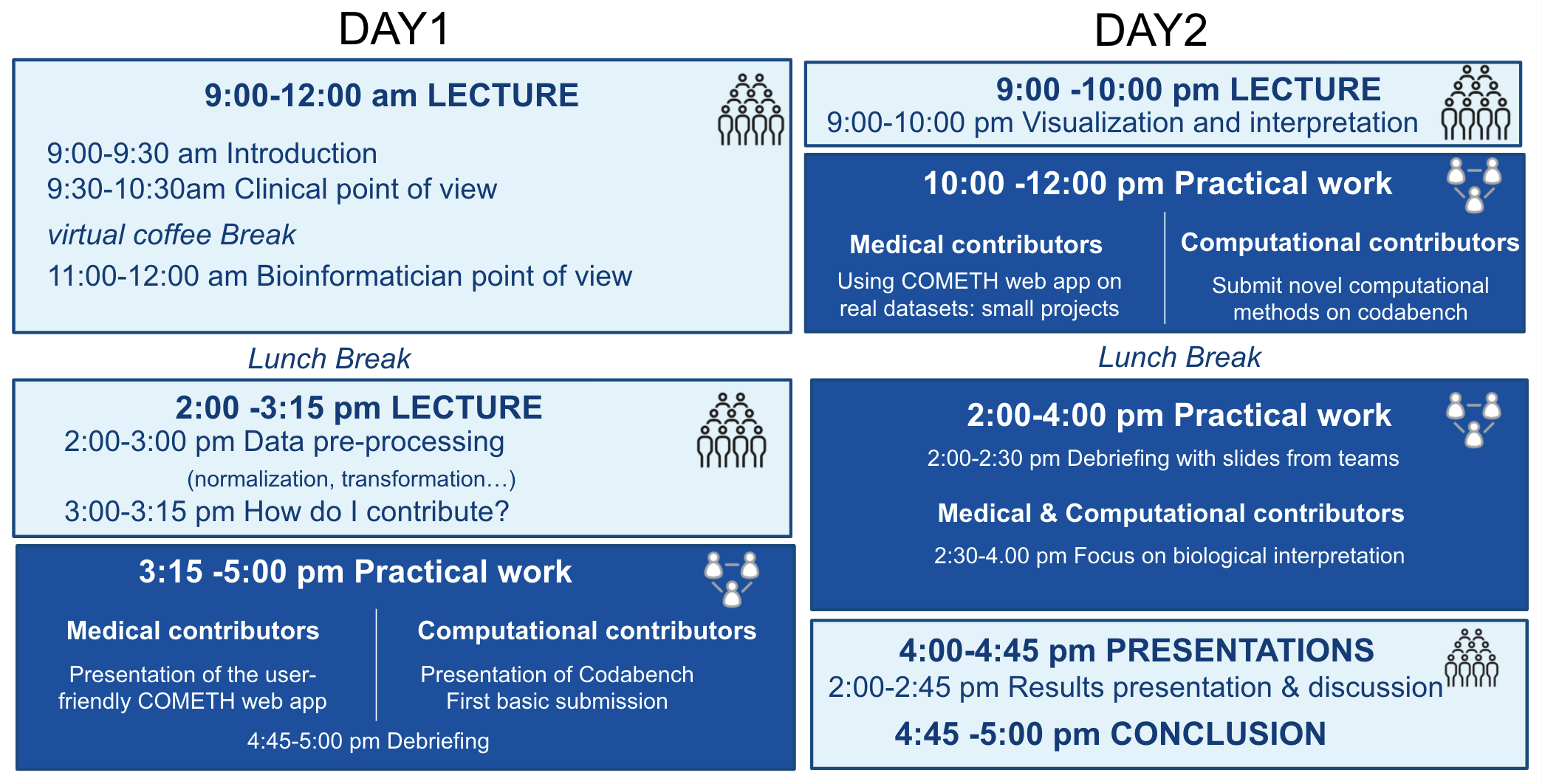 ---
Target Group
Cancer pathologists

Research scientists

Clinicians
Limited to 30 participants.
---
Registration
Registration is free of charge but mandatory.
Deadline: 10 January 2021
---
Trainers
Technical support
Clémentine Decamps, Phd Student, Uni. Grenoble Alpes, France
Yasmina Kermezli, Postdoctoral fellow, Uni. Grenoble Alpes, France